Financial Planning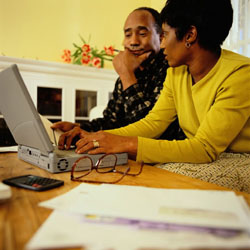 Hello and thanks for taking this moment to visit.

You should know that in addition to being a CPA, I am also an Investment Professional dedicated to providing you with quality independent financial products and services.

Independent simply means that I am not bound or restricted to use certain proprietary or company sponsored products. I have thousands of financial products available to me that I can use to best fit your unique financial situation and goals. This should be very important to you.

Equally important is my affiliation with Avantax Wealth Management ServicesSM. They provide access to these products as well as a technology platform that helps me be efficient in the day to day activities. But most important they also provide a support network of education and experience which helps to sharpen my skills ultimately benefiting you.

Next you should know that you are very important to me. My livelihood resides in the satisfaction of my clients. I will strive to make you pleased with my service and I will work diligently to help you reach the financial goals that have brought you here to me.

Why Get a Personal Financial Plan?

If you are considering getting started on a financial plan for yourself, your household or your business, you are not alone.

A number of reputable independent sources have reported that financial planning is one of the fastest growing and most in demand financial services.

Creating and following long-term financial and tax planning strategies can be daunting, even during stable and prosperous times. In an economic environment that is in constant flux, staying on top of your complex financial life is even more challenging. It's also more important than ever. We can help.

Why Work with a CPA Financial Planner?

A CPA is licensed by your state and adheres to a strict professional code of conduct. The CPA Code of Professional Conduct is over 125 years old and has been continually updated to meet evolving needs, new technology and changing regulations.

CPAs are the only regulated financial planners. A founding principle of the AICPA Statement on Standards in Personal Financial Planning Services and the CPA Code of Professional Conduct is "always acting in the best interest of the client," an exceptionally important factor in selecting a financial planner.

Our firm may bring knowledgeable experts in specialized financial areas to help with your financial plan. The principle of "always in the best interest of the client" extends to them, and we will collaborate closely with them to ensure your interests are the primary consideration.

As a trusted adviser, we are in a unique position to provide objective recommendations so you can make informed decisions. CPAs who also are financial planners have knowledge and experience in multiple financial planning areas ensuring that all of the bases are covered. Plus, CPAs' characteristic tax expertise is a unique and valuable service that further differentiates our services from other financial planners.

CPAs have been doing financial planning for clients for over 100 years, a testament to the sustained rigor, depth of expertise and practical value of our experience and educations as CPAs.

So, why a CPA financial planner? Along with our financial planning knowledge, you can count on competence, objectivity and the highest standard of integrity for your most important financial decisions.

On the following pages, we've included information about working with a CPA financial planner, what you can expect and the services that may be important to you.

Please take the time to contact me at your convenience to learn more.

Thank you again for your time.